I tried making this for breakfast this morning, it's a Nigella Lawson recipe. I'm not a huge fan of mango, so perhaps I'll swap it out for banana instead next time. I think banana will mellow the whole thing out a bit more, as it goes it was a bit too sharp for my sleepy taste buds.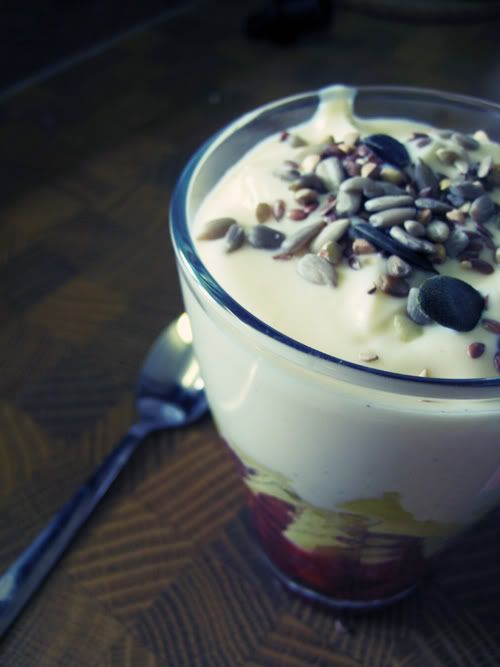 I'm a big fan of breakfast, it's wonderful for you. The only trouble is that my stomach is not a big fan of eating anything before around midday and it tends to rebel. I try to stick to fruit, yogurts, smoothies etc because I know I have to eat something and my stomach doesn't seem to mind them quite so much.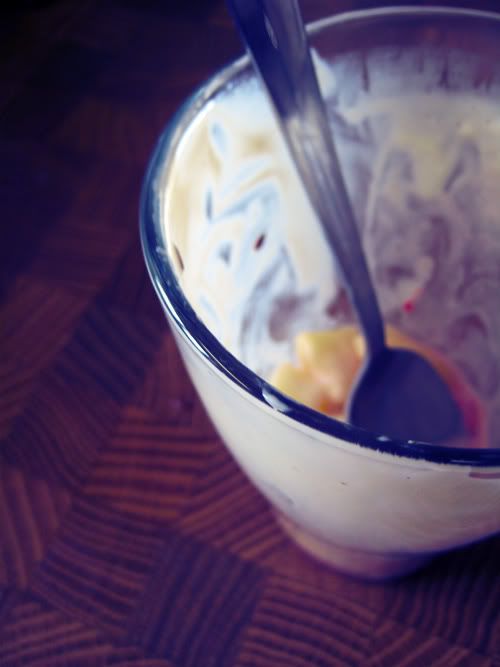 Yum yum yum. Mikey liked it too. In fact I was sitting on the couch eating it and he kept leaning in real close to try and get his head in the way so that perhaps I'd "accidentally" put some in his mouth instead of mine. He's a sneaky bugger, that one.

Aaaanyway. Cubed Mangos with a teeeny bit of lime juice. Finely chopped Strawberries mixed with some pomegranate juice. Vanilla Yogurt (German Yogurt is SO GOOD), seeds. Layer it to look awesome.

Yesterday Raidhyn took a picture of us taking a nap. I think Mikey likes to trap me so that I can't leave while he is napping.