Perhaps I lied a little about taking a break.

I made this for dinner Monday night, it's not the healthiest but it's easy peasy. It doesn't even really take as long as it sounds it might.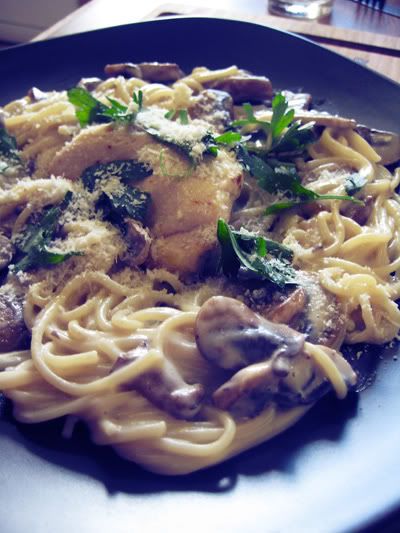 You can make your own Alfredo Sauce, although if I'm feeling lazy I sometimes cheat and just use a jar of the stuff from the store. In which case you probably need just under half a jar of it for 2 people, more isn't always better. I sometimes water it down a tiny bit too because it can be really too thick on occasion. It depends on my mood.

Apologies that my quantities aren't particularly specific, I tried to guess because I generally don't measure stuff out. The best idea is to play around with the quantities until it tastes good (that's what I do anyway).

Alfredo Sauce (for 2 people)
Ingredients
1/4 cup Butter
Minced Garlic (I like a lot so I use 2 small cloves)
1 cup Heavy Cream
a pinch of Ground Pepper
1/4 cup Grated Parmesan
about 1/4 cup of Mozzarella

Directions
Melt the butter in a saucepan over a low heat. Throw in the Garlic, Cream and Pepper. You have to stir it a lot so that it doesn't get a gross skin on it. Simmer it for a while until it's all nice and mixed in.
Add the Parmesan and simmer until the sauce thickens (about 10 minutes, give or take). You still have to keep stirring.
Add the mozzarella and stir until smooth (that's a lot of stirring). All done, rest your stirring arm.

While that's going on you can be boiling some pasta (I usually use linguine because it holds the sauce better, but we've run out so I've got regular spaghetti. Any kind of long spaghetti-like pasta is good). Use cold water, let the water boil in the pan, then throw in some sea salt and let it boil again. Salt increases the boiling temperature of water apparently, so it takes a minute for it to get back up to boiling. Some people add olive oil, but it doesn't really make a difference. If you pay attention to the pasta and stir it then it doesn't stick. I don't often cook with much salt at all, but pasta really needs it to cook properly and taste good. When it's back up to boiling you can put the pasta in the pot. Make sure to stir it occasionally and don't let it boil over.

You can throw a couple of chicken breasts on a grill, or bake in the oven. You might want to do that bit first because chicken generally takes longer to cook than the rest of it. I just use olive oil and ground pepper for the chicken, you can throw a little white wine on it if you like.

Saute some mushrooms in another pan with a bit of garlic and then mix the mushrooms in with the sauce.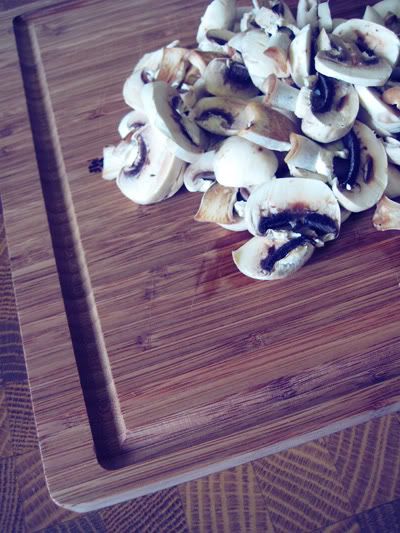 When both sauce and pasta are done, you have to time it pretty good because the sauce doesn't like to sit around too long, you drain the pasta and mix it in the sauce. Pasta goes into the pan that holds the sauce, trust me it's better that way (and it says so on the directions on my spaghetti pack, so it must be true). Mix it all up so the pasta is nicely coated.

Arrange it all on the plate so it looks awesome. Leave a little space in the middle to put your chicken breast. Put the chicken breast in there, garnish the whole thing with more grated Parmesan and some herbs or something. I had parsley left over so I used that. Making it look good is the most important part, because your significant other wont be able to complain about how awful it tastes if it looks like you made an effort. Because that would be mean. My husband sometimes likes to make up a price for how much the same plate would cost in a restaurant. If he says less than $10 then he's sleeping on the couch.

Mikey likes to eat this too. Generally the messier something is to eat with your bare hands the more he likes it.

Serve with a leafy salad, to counteract the fattening sauce. Salad cancels out calories right? haha. Or if you don't care it does go nice with some crusty fresh bread.